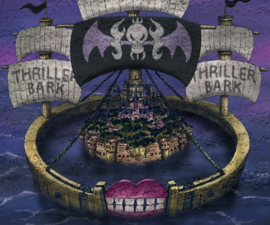 The Straw Hats, during their journey into the Florian Triangle arrive at a haunted island/ship called Thriller Bark, in which their shadows are stolen by the Warlord of the Sea Gecko Moria and must hurry to get them back before the sun rises. After defeating Moria, another Warlord of the Sea shows up to make the Straw Hats' situation worse. The Straw Hats also gain a new crewmate, a living skeleton named Brook who becomes their musician.
Pages in category "Thriller Bark"
The following 2 pages are in this category, out of 2 total.