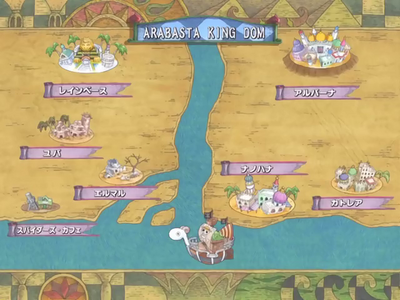 Alabasta Kingdom is a desert kingdom in Paradise. It was the fourth island that the Straw Hat Pirates visited on the Grand Line, and the events here resulted in Luffy's bounty being raised to 

100,000,000, and Zoro acquiring a bounty of 

60,000,000. It is where the Poneglyph showing the location of Pluton is located, and is one of the twenty founding countries of the World Government.
Pages in category "Kingdom of Alabasta"
The following 2 pages are in this category, out of 2 total.
Ad blocker interference detected!
Wikia is a free-to-use site that makes money from advertising. We have a modified experience for viewers using ad blockers

Wikia is not accessible if you've made further modifications. Remove the custom ad blocker rule(s) and the page will load as expected.