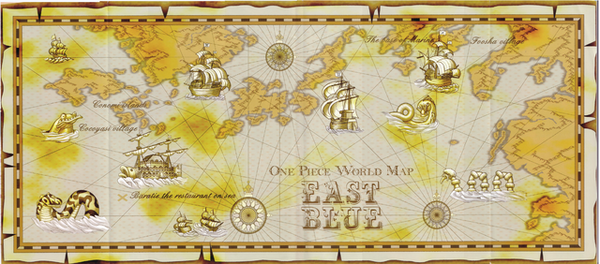 The East Blue is commonly known as the weakest of all the seas. Pirates who are considered great and threatening in this sea are regarded as low rate compared to pirates from the other seas and especially in the Grand Line. The sea's weak status was demonstrated by Dracule Mihawk when he single-handedly took out every ship in Don Krieg's armada (except the flagship that was lucky enough to escape, which he later hunted down), recognized as the strongest fleet in the East Blue, when they tried to enter the Grand Line. Ironically, despite its poor fame, the East Blue was the birthplace of the most powerful pirate of all time, the late Pirate King Gol D. Roger, and many other powerful and world renowned characters, such as Monkey D. Dragon, Monkey D. Luffy and Roronoa Zoro.
Pages in category "East Blue"
The following 8 pages are in this category, out of 8 total.